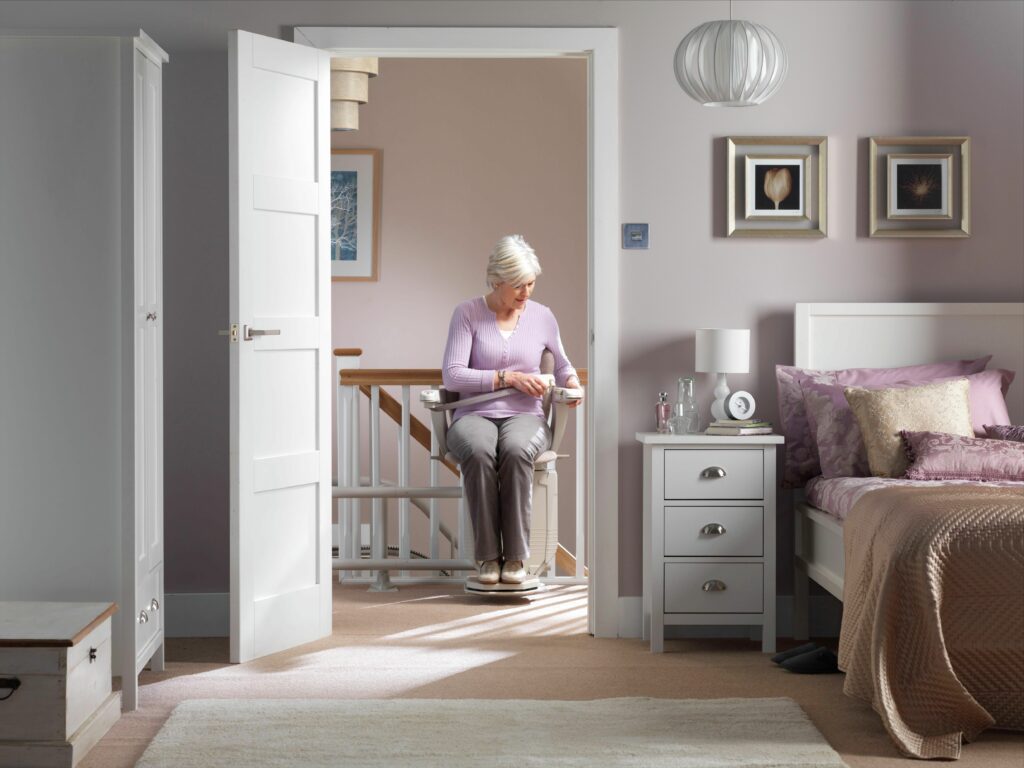 Home stair lifts are motorized chairs that glide up and down your staircase on a rail mounted to stair treads. They are most popular for people who have difficulty using the stairs in their homes, but stair lifts can also be installed in commercial buildings like churches. A home stair lift can be installed indoors or outdoors, on straight or curved stairs. The typical user of a stair lift can stand, sit, and pivot with little to no assistance.
As the population of senior citizens in America continues to grow, many people are opting to remain in the comfort of their homes as they age. In fact, nearly 80% of seniors prefer to live at home rather than move to a retirement facility, according to an AARP survey. But illnesses, injuries, or recent surgeries can make it difficult to move about a multi-level home. These reasons are why home stair lifts have become increasingly popular and widely available at an affordable price, especially when compared to the monthly costs of a retirement home.
If you need help deciding if a stair lift is right for you or a loved one, read on. There are several different types of stair lifts that you can choose from, depending on the layout of your home and your health and mobility needs.
Who Uses Stair Lifts?
People who will see the most benefit from stair lifts are elderly people and those who can walk on flat surfaces but struggle with stairs.
Here are some of the most common situations in which home stair lifts are ideal:
An injury or surgery has rendered you unable to safely climb the stairs to reach a bedroom on the second floor
The laundry room is in the basement, and it would be too much of a hassle to bring the washing machine and dryer to the first floor
A couple living in a multi-level home is beginning to find it difficult to climb stairs because of mobility issues
If any of the above situations apply to you and moving to a single-level home or a senior living facility is not an option you're looking into, installing a home stair lift is a great choice.
Main Components & Features of Home Stair Lifts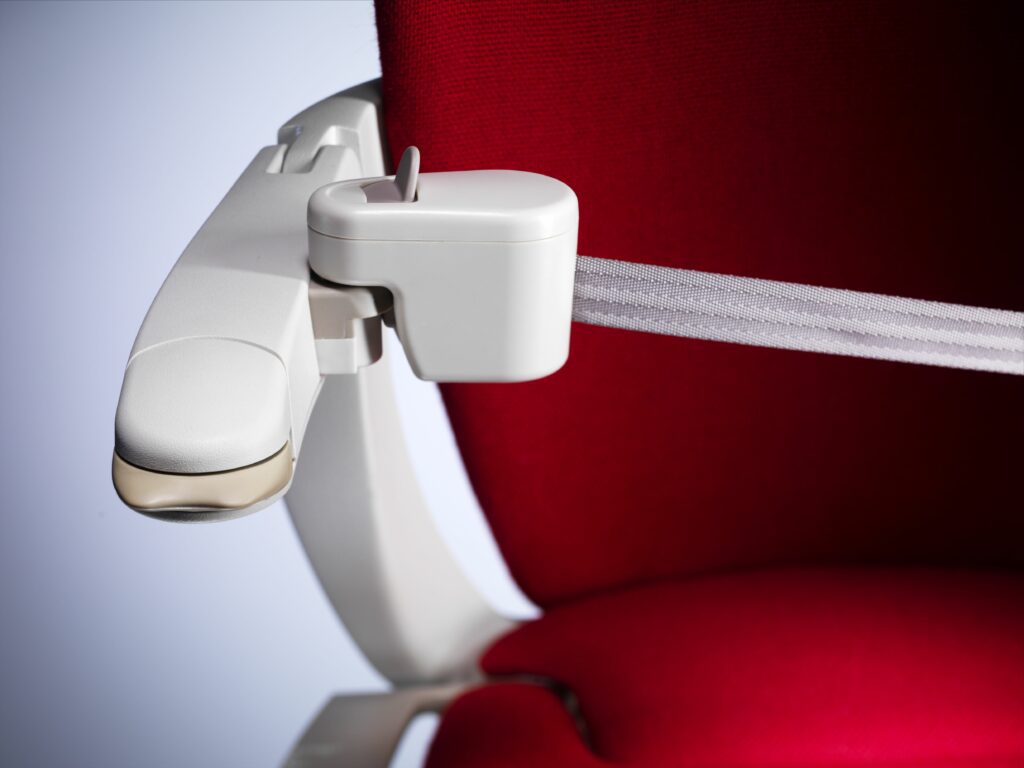 Components
Rail: metal track upon which the chair glides
Chair: Includes the user seat and the "carriage," which connects to the rail and houses the motor
Power Source: AC-powered (wall outlet) battery charger
Features
Folding seat/footrest: The seat and footrest fold up to maximize space when the stair lift is parked and not in use
Swiveling seat: The seat swivels up to 90 degrees and locks in place for a safe exit away from stairs
Adjustable seat: Chair height, footrest height, and armrest width can be adjusted to best fit the user
Seatbelt/safety sensors: Seatbelts and obstruction safety sensors come standard
Remote controls: Two wireless remotes can "call and send" the stair lift when there is more than one stair lift user in the home
Types of Stair Lifts
Indoor
Straight star lifts: The most common and economical type of stair lift is a straight stair lift for an indoor staircase. Straight stair lifts come with a standardized rail that can be cut to fit your staircase. Weight capacities are usually up to 350 pounds for straight stair lifts, and they have the quickest installation time.
Curved stair lifts: If your indoor staircase has curves, turns, or intermediate landings, you'll need a custom curved stair lift. Manufacturers use a technical photosystem to custom-build the rail to fit the exact design of your staircase.
Outdoor
If you or a loved one has a set of outdoor stairs that they can no longer safely navigate, you should consider installing an outdoor star lift. Outdoor stair lifts are built to withstand rain, snow, and high winds, and they come with a cover to protect them when not in use. 
Star Lift Options & Customizations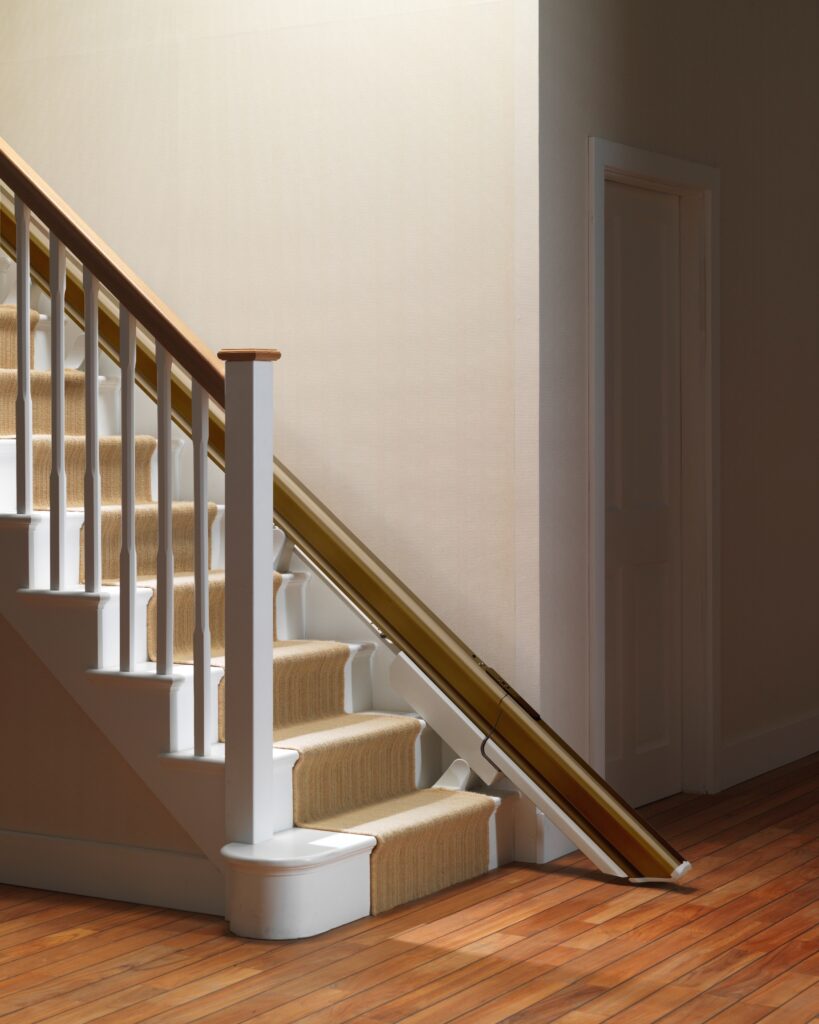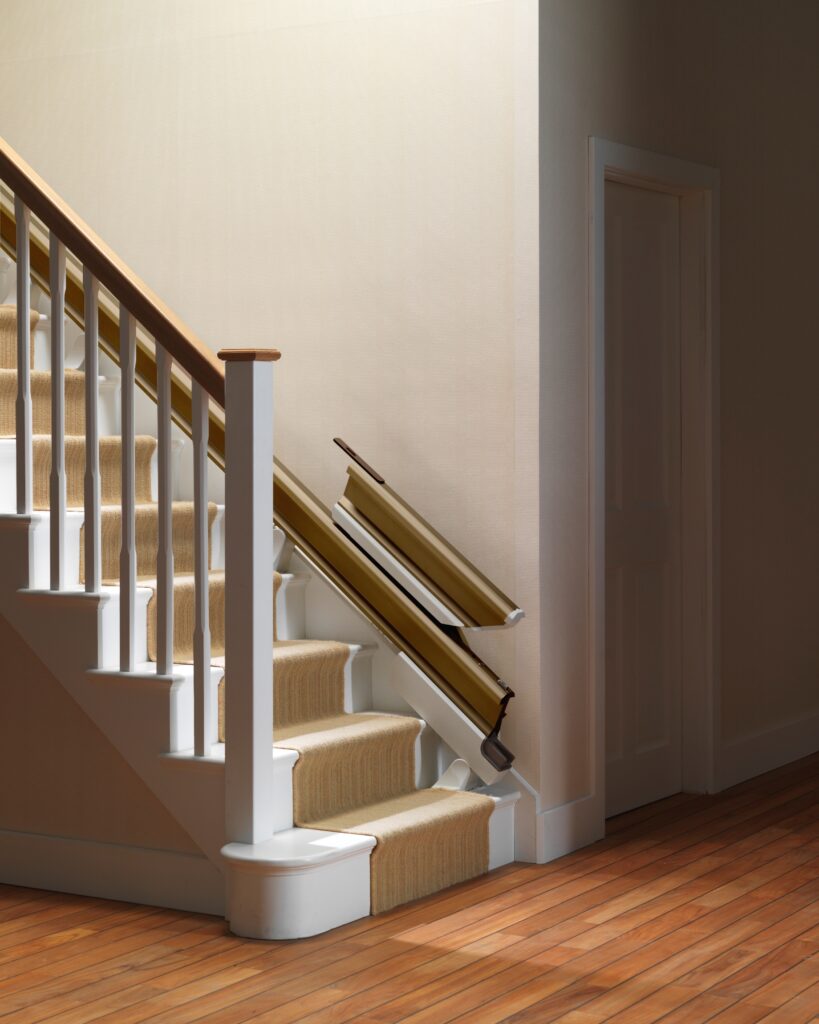 Rail
The design of the rail varies with each manufacturer, but all stair lifts glide up and down on a rail. The rail is mounted to the treads of the stairs and does not require a wall support. DME Elevators & Lifts' straight stair lifts also offer the option to have a folding or retractable rail to avoid a tripping hazard when the lift is not in use.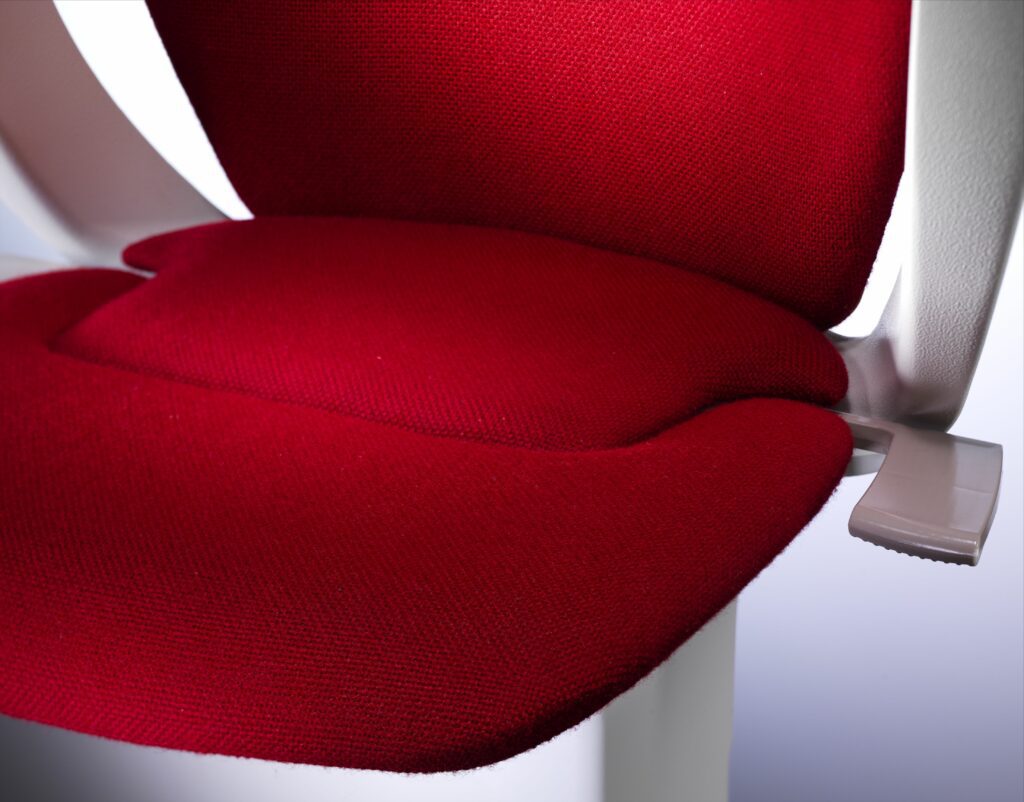 Chair
The chair of the stair lift is customizable depending on your preferences and needs. We offer a variety of colors and materials to match your home.
The armrests, seat, and footrests can fold to maximize space when the stair lift is not in use, and powered folding mechanisms eliminate the need to bend down.
Chairs can swivel to turn you in a safe direction once you exit the stair lift. At the top of your staircase, your stair lift can turn towards the landing and away from the stairs. You can opt for a manual swivel lever or a one or two-way powered swivel.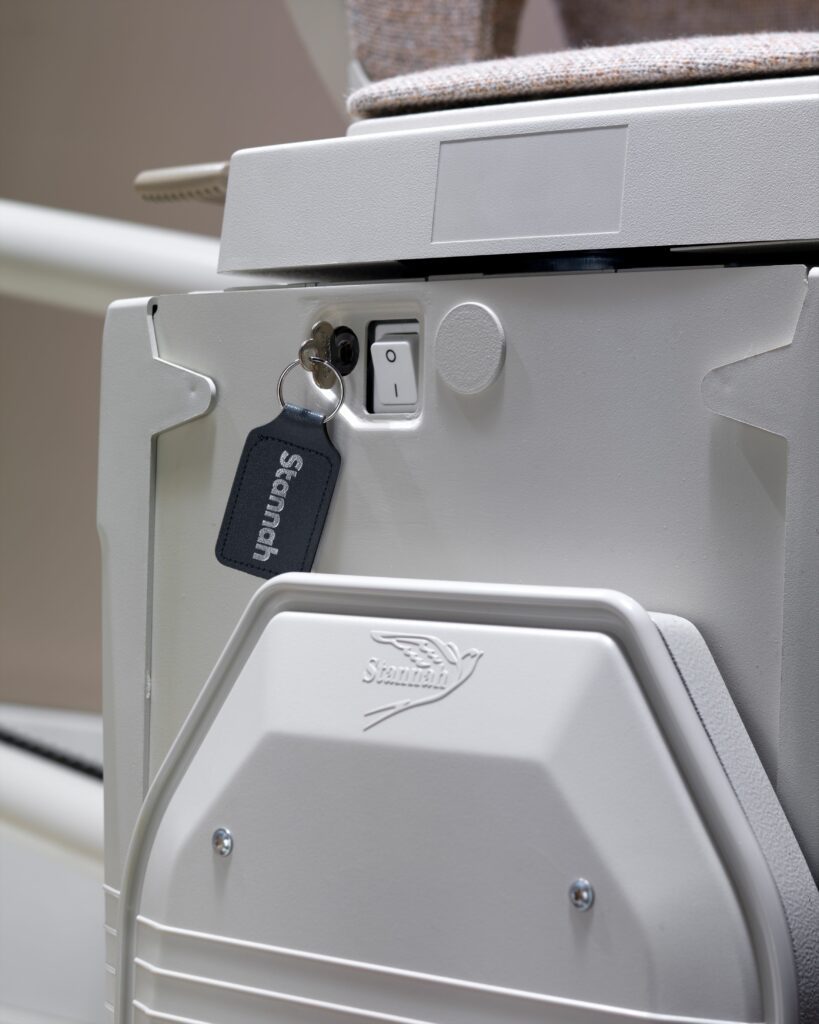 Power Source
A regular 120v household outlet charges the battery of stair lifts. So that means you simply need a standard outlet nearby and you are ready!. The battery also provides reliable power backup to send the stair lift up and down the rail, 15-20 times, so you don't have to worry about limited mobility during a temporary power outage.
Safety Considerations for Stair Lifts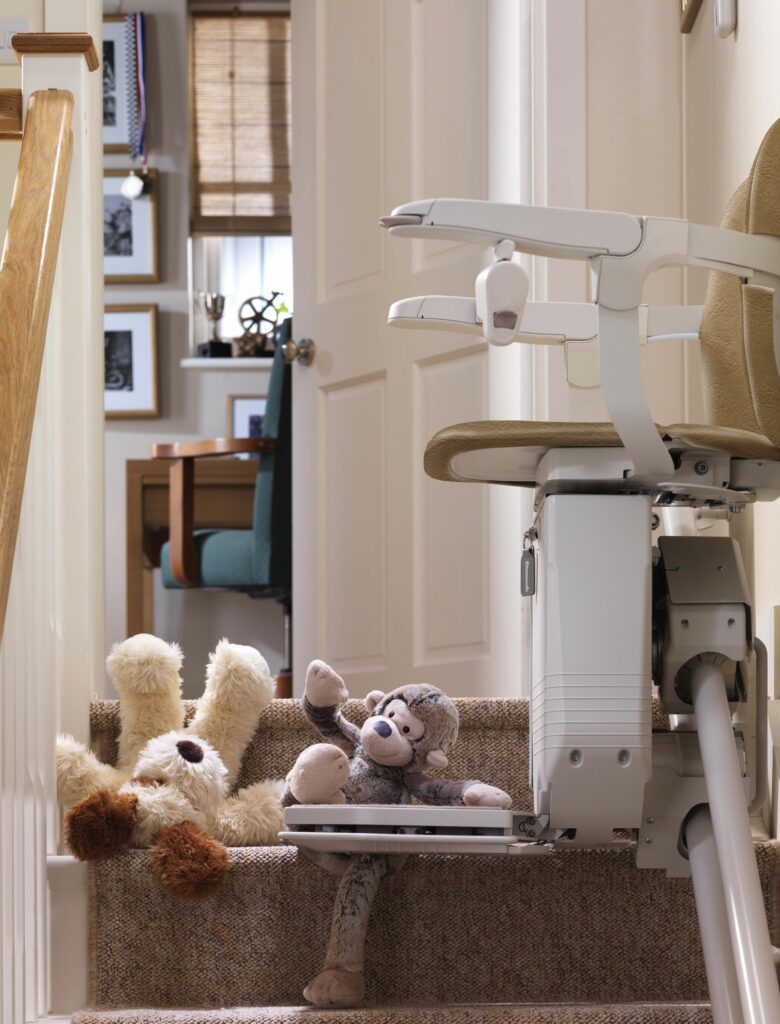 Stair lifts are safe for most people with limited mobility to use. They come with built-in safety features, including:
Seatbelts: All stair lift models come with user-friendly seatbelts that keep you safely positioned in the chair.
Obstruction safety sensors: The footplate and motor contain safety sensors that automatically stop the lift if there is any obstacle in its way.
Weight capacity: DME offers stair lift models with weight capacities of up to 350 pounds.
Benefits of Installing a Stair Lift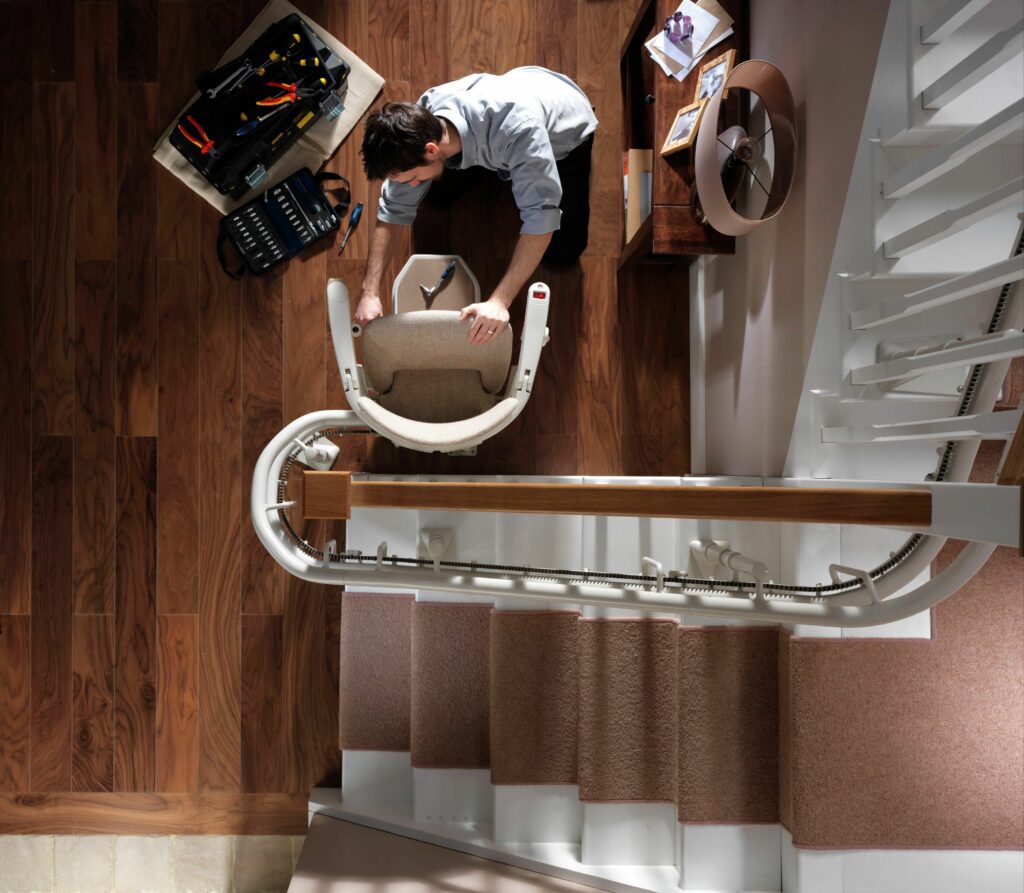 A stair lift can provide many benefits to the person who uses it, along with that person's loved ones and caregivers. Stair lifts provide:
Independence: If you no longer feel comfortable navigating your stairs without assistance, your sense of independence will become limited, partly because you can no longer access all rooms in your home. A stair lift will allow you to access an upstairs bedroom or a downstairs laundry room safely, all with the push of a button.
Safety: Limited mobility puts many seniors at risk of slipping or tripping on stairs, which can result in serious injury. These risks can be avoided with the installation of a stair lift, which comes equipped with a seatbelt and safety sensors to transport you up and down stairs safely.
Peace of mind: You and your family will have peace of mind knowing you are not at risk of injuring yourself while navigating the stairs.
A cost-effective solution, and you can stay in your home: Compared to the monthly costs of living in a senior living community, installing a stair lift is much more cost-effective. And, you can stay in the comfort and familiarity of your home.
Stair Lift Cost
The main factor that determines the cost of your stair lift is whether your staircase is straight or curved.
Straight Stair Lift Cost
The average cost of a straight stair lift is between $3,500 and $6,500. Many customers choose an option in the $4,000 to $5,000 range.
Curved Stair Lift Cost
The costs of curved stair lifts vary from $8,500 to $15,000. All curved stair lifts are custom models, and the cost depends on the shape and length of your stairs.
Outdoor Stair Lift Cost
The cost of outdoor stair lifts is often several thousand dollars higher than that of indoor stair lifts. Outdoor stair lifts usually cost around $10,000 once you also factor in the necessary permits required by your city.
How Can I Afford a Stair Lift?
DME Advisors understand many seniors are on a budget and we will help you find the best stair lift for you and your wallet. Another option to consider is purchasing a pre-owned stair lift or renting a temporary stair lift, as these may help you lower the initial out-of-pocket cost.
Choose the Right Stair Lift Company
When you choose to install a stair lift in your home, you want to make sure the company is there for you before, during, and after installation to maintain and service the stair lift if needed.
At DME Elevators & Lifts, we have been serving our customers for over 45 years. Our factory-trained technicians are dedicated to providing reliable installation and servicing of our stair lifts for years to come.
Regain Your Independence With DME Elevators & Lifts Today
If you are not considering moving to a single-level home or a senior living facility, find your freedom with a stair lift. Installing a stair lift will allow you to age comfortably in the place you call home. Restore your and your family's peace of mind with a stair lift that will safely transport you to all areas of your home without the risk of injury. You can select the right stairlift for your home and your mobility needs, and DME Elevators & Lifts is here to help you make that decision.
Contact us for a free in-home consultation and quote.