Outdoor Stair Lift Installation & Repair in Illinois, Indiana, and Wisconsin
The need for a stair lift doesn't stop indoors. An outdoor stair lift lets you confidently leave and enter your home, with no unsightly ramps needed.
DME Elevators & Lifts offers stair lifts designed to withstand the harsh Midwest weather conditions. These outdoor lifts provide the same level of safety and comfort as an indoor lift. Think an outdoor stair lift is right for you? Keep reading to find out.
Are Your Stairs Right for an Outdoor Lift?
The short answer? Probably.
As long as you have a straight flight of three steps or more, DME Elevators & Lifts can install an outdoor stair lift. Common areas for an outdoor stairlift include outdoor staircases, garage stairs, and decks. Outdoor stair lifts are much safer than ramps as ramps can get slippery and dangerous when icy or wet.
How Much Does an Outdoor Lift Cost?
Outdoor stair lifts typically cost more than straight indoor stair lifts. Depending on your needs, you can count on an outdoor stair lift starting at $7,500. You should also take into consideration any permits or possible construction needed. Contact our team to learn more about outdoor stair lift costs and how we can meet your needs while staying within your budget.
Key Benefits of Outdoor Lifts
Outdoor stair lifts unlock a whole new level of independence. From weather resistance to safety perks, the clear choice for outdoor mobility assistance is a stair lift.
Enjoy every moment of your regained freedom with key benefits and features like:
Weather Resistance
Rain, sleet, wind, and snow—none of it stands a chance against an outdoor stair lift. DME Elevators & Lifts installs high-quality stair lifts designed to resist tough weather conditions. Our outdoor stair lifts also come with a cover for maximum protection.
A Key Lock
Concerned about others using your stair lift? There's no need to worry. Our outdoor stair lifts come with a removable key lock for unsurpassable security.
Landing Controls
Just like our indoor stair lifts, outdoor stair lifts come equipped with easy-to-use landing controls. Call your chair to the top or bottom landing and get out of your seat safely with convenient swivel capabilities.
Energy Efficiency
Contrary to popular belief, an outdoor stair lift isn't expensive to run. In fact, outdoor stair lifts are cheaper to operate than most common indoor appliances.
Safety & Convenience
Unlike ramps, outdoor stair lifts come with safety sensors that help prevent injuries. Plus, there's no need to haul heavy bags of groceries inside when you can simply send them up your lift.
Enjoy the ride and give yourself the peace of mind you deserve.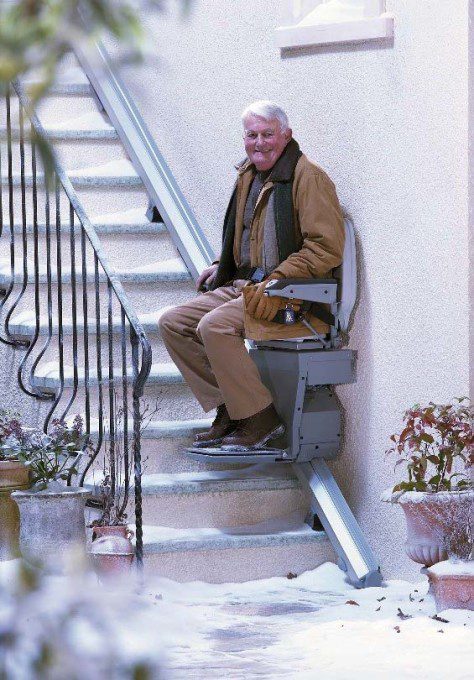 Meet Your Mobility Potential with a Stair Lift From DME
Take your independence outside with a stair lift from DME Elevators & Lifts. We have proudly been serving customers across Illinois, Indiana, and Wisconsin for over 45 years. Our team of experts can help you choose a budget-friendly stair lift that satisfies all your mobility needs.
Entering and leaving your home should never be a struggle. Get a free in-home assessment and start your journey to freedom today.