Outdoor Wheelchair Lift Installation & Repair in Illinois, Indiana, and Wisconsin
Mobility challenges should never get in the way of your life. Outdoor lifts provide an easy entry for those using scooters or wheelchairs, letting you live without limits. With DME Elevators & Lifts, you can count on safe and reliable outdoor wheelchair lift installations for homes and businesses by trusted experts.

---
Click on one of the links below to learn more about Wheelchair Lifts.
Residential Outdoor Wheelchair Lift
Residential Outdoor Wheelchair Lifts
Decks and porches are timeless additions to any home, but the stairs can be a challenge—especially for scooter and wheelchair users. Instead of changing the exterior of your home with a ramp, a vertical platform lift (VPL) from DME Elevators & Lifts will let you enter your home without sacrificing your home's design.
Let's take a look at the key elements of a VPL.
Platform
The platform is steel-constructed, featuring standard 36" high guard panels and a grab rail. This platform has a non-skid surface for a safe and comfortable ride. With plenty of optional colors to choose from, you can match your lift to your home's exterior paint.
Controls & Fixtures
The controls and fixtures of your VPL come with an easy up-and-down control switch and hall call control stations at both landings. For extra peace of mind, our team can install a telephone and emergency lighting.
Doors & Gates
All of our vertical platform lifts come with a standard upper landing gate. A folding hinged ramp is included in low-rise unenclosed applications and may be fitted with an optional platform-mounted lower-landing gate. Doors and gates may be manual or power operated.
Platform Configuration & Drives
Outdoor wheelchair lifts are designed to withstand harsh Midwest weather. Our outdoor lifts will typically use screw drives. These drives usually climb at ten feet per minute.
Features & Functionality
Our vertical platform lifts are installed with your needs in mind. That's why we offer car sizes reaching up to 18 square feet with low-rise applications measuring up to six feet with two stops. The load capacity for our vertical platform lifts is 750 pounds.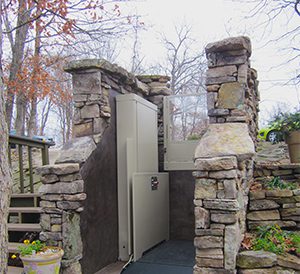 Commercial Outdoor Wheelchair Lift
Commercial Outdoor Wheelchair Lifts
Accessibility benefits your business in numerous ways. From inclusivity to improved company culture, it's important to make your business reachable to everyone. DME Elevators & Lifts offers commercial vertical platform lifts that will empower your customers while taking your business to the next level.
Key elements of a commercial outdoor wheelchair lift include:
Platform
The steel platform has a grab rail and guard panels that are 42″ high. The non-skid surface of this platform ensures a secure and comfortable ride. You can match your lift to the external paint of your business thanks to the variety of different colors.
Controls & Fixtures
Your commercial lift's fixtures and controls include a simple up-and-down control switch as well as hall call control stations at both landings. Our crew can set up a phone and emergency lighting for added safety.
Doors & Gates
Certain low-rise units may be unenclosed, taller units require a shaftway or enclosure. Depending on the application, enclosures, shaftways, and doors may be fire rated.
Platform Configuration & Drives
Configuration of a commercial outdoor lift comes equipped with a straight-through entry and exit. Additional options for entry and exit on the same side and a 90-degree entry and exit are available. Screw and hydraulic drives are also utilized.
Features & Functionality
Commercial outdoor VPLs can reach 14 feet with up to three stops. Screw drives climb at ten or twenty feet per minute (fpm), while hydraulic drive systems run at 17 fpm. For a more refined VPL, DME Elevators & Lifts offers a Full Height Cab option.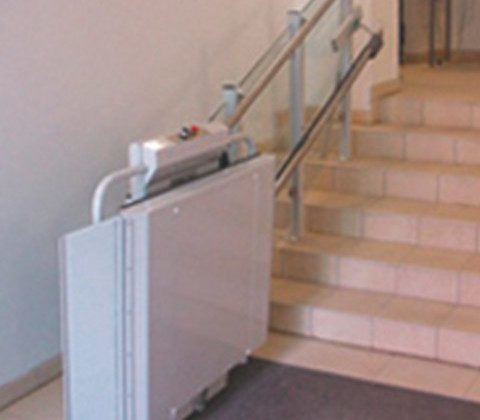 Outdoor Wheelchair Lift FAQ
Navigating the world of outdoor lifts can be confusing. That's why we're here to answer your questions.
Have a different question?
Enjoy the Ride With DME Elevators & Lifts
We're changing the way people move one wheelchair lift at a time. Enjoy your home or provide easy access to your business with outdoor wheelchair lifts. With over 40 years of experience, DME Elevators & Lifts is committed to uplifting our customers in every installation.
Stop worrying about getting from A to B and start enjoying the ride. Contact our team for a free quote today.
Contact DME Elevators & Lifts Today about Outdoor Wheelchair Lifts
and
Make Life More Accessible

.