Curved Stair Lifts Installation & Repair in Illinois, Indiana, and Wisconsin
There's no need to move into a single-level dwelling when you can love every level of your home with a custom stair lift from DME Elevators & Lifts. We install high-quality stair lifts tailored to fit any curved staircase—no matter how complex.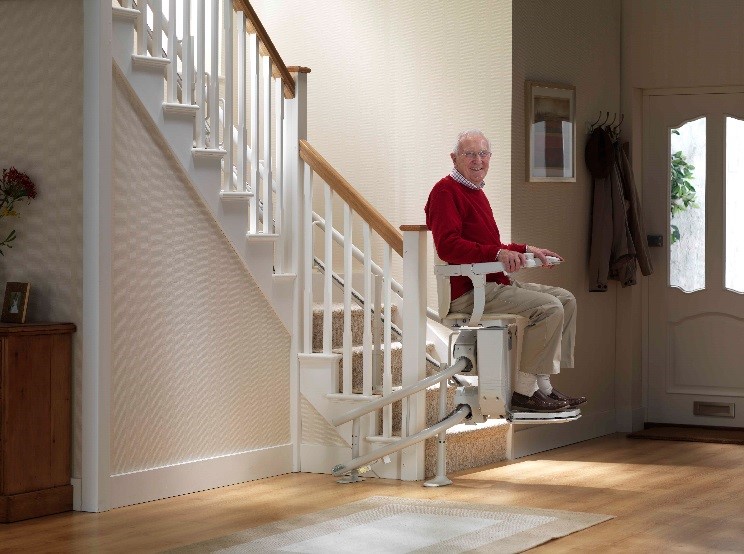 Highlights of Curved Stair Lifts
Today your curved staircase might look like a challenge—but we're here to make that challenge a breeze. Every curved stair lift is expertly crafted to fit the architecture and curvature of your staircase.
Enjoy the ride with notable highlights like:
High-Quality Standards
DME Elevators & Lifts ensures that every curved stairlift meets our safety standards. Our chairlifts are tested for key elements such as smooth gliding action, swivel seats, battery backup, secure safety controls, professional installation, and more.
Custom Fit
A curved stairlift that doesn't fit your staircase can be a recipe for disaster. It's unsafe and can leave you in dangerous situations. You should avoid the risks that come with hiring third-party installers. Our certified technicians are trained to expertly install straight and curved stairlifts.
Easy-To-Use Controls
Our stairlifts are designed with your comfort in mind. The armrest and remote controls move the stairlift from one landing to another. Foldable arms, seats, and footrests help save space when the stairlift is not in use. Many lifts also come with added power features which make stairlifts simple and easy to use for those with mobility issues.
Safety Features
Safety is our top priority—that's why our stair lifts include safety sensors, seat belts, and swivel options designed to provide secure control for a smooth, worry-free ride.
Curved Stair Lift Features
We install stairlifts that you'll look forward to using. The small details on our stairlifts play a significant role. Let's take a look at some features that can make a big impact on your curved stairlift experience.
Wide, Cushioned Seat
Nobody wants to sit in an uncomfortable seat. After all, you'll be using your stairlift all the time. Our stairlift seats are cushioned for maximum comfort. We also carry models that can accommodate users up to 400 lbs.
Powered Options
For those requiring more assistance and security, you should consider a stairlift with a powered footrest and a power swivel. This will give you peace of mind that your stairlift is safe and easy to use for all users.
Obstruction Sensor
A sensor will bring your lift to a stop if it senses anything blocking its path, so you can safely ride your stair lift.
Retractable Seatbelt
Safety first. Take the worry out of climbing your stairlift and safely strapped in with a comfort-designed retractable seatbelt.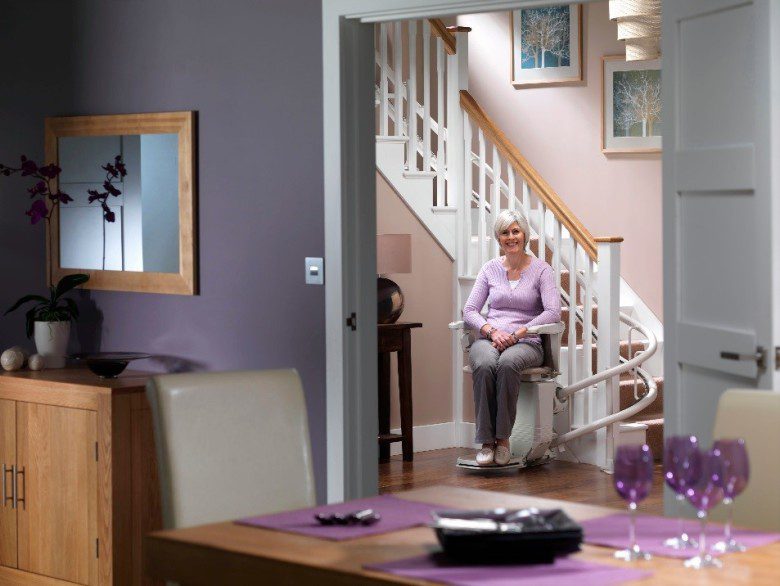 Curved Stair Lift FAQ
Conquer Your Curved Staircase with DME Elevators & Lifts
Curved stairlifts are unique—just like you. When you choose to work with DME Elevators & Lifts, you're choosing excellence in elevation. Our team has been changing lives and transforming how people move for 45 years. Get the freedom you deserve and schedule a free in-home assessment with one of our expert advisors.