Straight Stair Lift Installation & Repair in Illinois, Indiana, and Wisconsin
If you have mobility issues, then you know how frustrating it is to be unable to access your entire home. Plus, a lack of independence can really impede your self-esteem. Regain your independence and boost your confidence with a straight stair lift from DME Elevators & Lifts.
Straight stair lifts are a simple, quick, and safe way to reach all areas of your home. Each lift is crafted with your needs and comfort in mind. Get the most out of your home and find out how an expertly-installed stair lift can benefit your quality of life.
Are Your Stairs Right for a Straight Stair Lift?
Installing a straight stair lift can be accomplished rather quickly. Our team can install a stair lift on most straight staircases, whether it has 4 stairs or 14 stairs.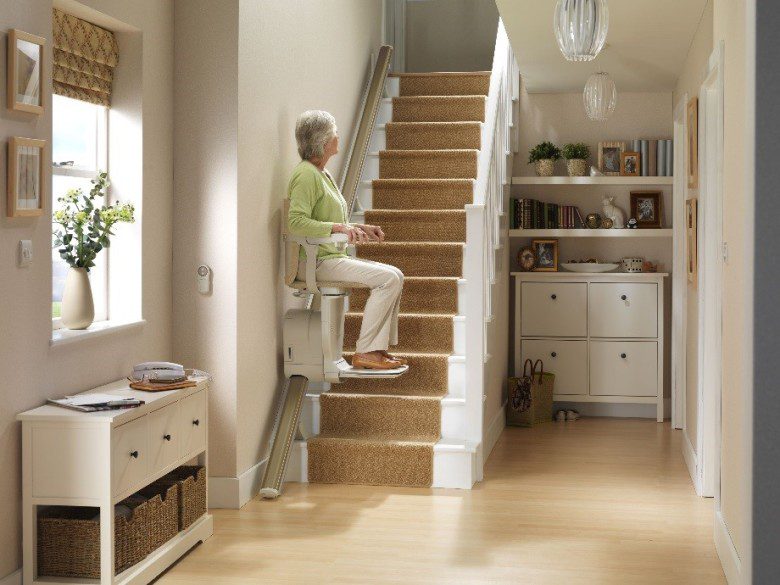 How Much Does a Straight Stair Lift Cost?
You love the idea of effortless home mobility, but you need to understand, "How much is this going to cost?".
The price of your stair lift depends on the length of your staircase, the type of lift you choose, and the features needed. However, you can count on a straight stair lift costing anywhere between $3,400 and $5,500. Be sure to ask about both new and used options, we will work with you to find the right lift to fit your budget.
The Safety Benefits of Stair Lifts
Safety doesn't have to be complicated.
We take safety a step above the rest with easy-to-use features.
Foldable Seat & Armrests
A foldable seat and armrests allow you to use your stair lift on your terms. Simply flip the seat and armrests down, and you're ready to go. If you're not using your stairlift, you can fold the seat and armrests back up for more clearance.
Foldable Footrest
Like the foldable seat and armrests, a foldable footrest ensures a safe ride and a safe climb. Folding the footrest when not in use makes for an unobstructed walkway for your family and friends.
Powered Swivel Seat
If getting in and out of the chair is a concern, then the addition of a powered swivel seat is in your favor. Powered swivel seats will swivel once you've reached the top or bottom landing for a simple dismount.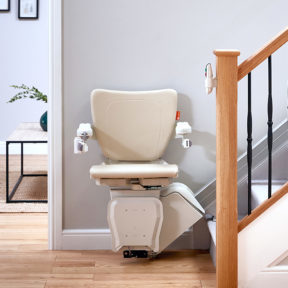 Why Choose a Straight Stair Lift
Our stair lifts are discreet, adaptable, and crafted to fit your needs. Whether you're recovering from an injury or have lifelong mobility limitations, a stair lift from DME Elevators & Lifts will enhance the way you move.
Enjoy the many benefits that come along with a straight stair lift, including:
Quick Installation
Customizable Safety Features
Made to Fit & Match Your Home
Foldable, Slim Storage When Not in Use
Get Mobile with a Stair Lift From DME Elevators & Lifts
DME Elevators & Lifts has been making the Midwest mobile for over 45 years. Straight stair lifts can accommodate most staircase lengths to meet your mobility needs. With new and used stair lifts for purchase, you can trust our team to keep your lift within your budget. Take the final step to freedom and regain your independence.
Call us to book an in-home assessment today.