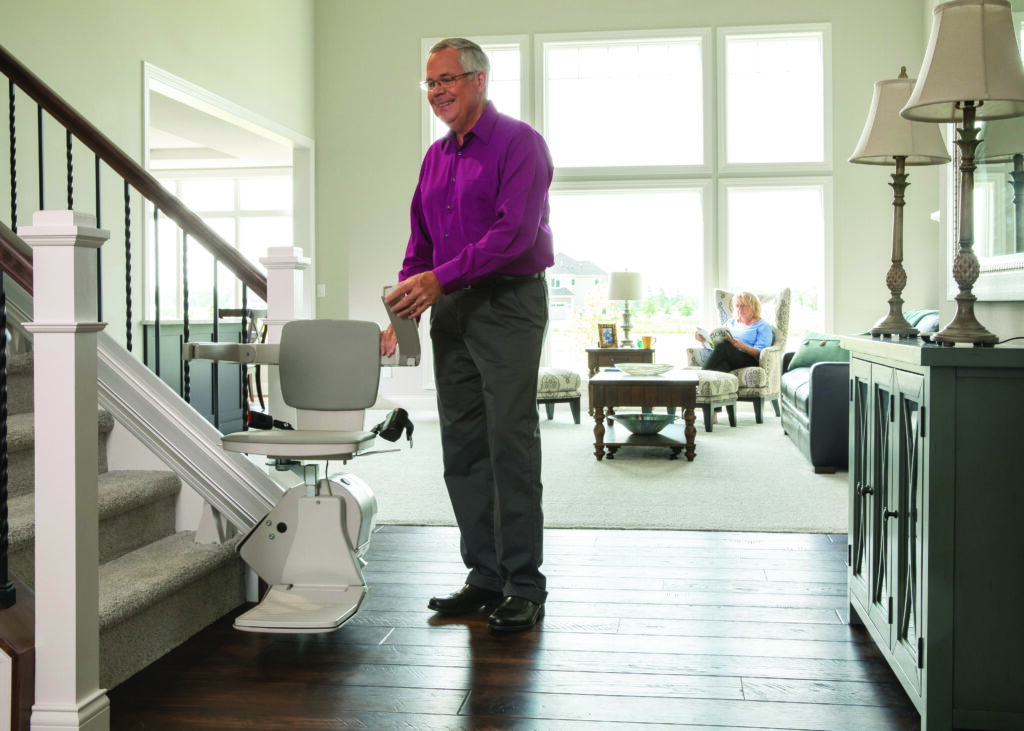 When it comes to making your home more accessible, a stair lift can be a game-changer for those with mobility challenges. These innovative devices allow mobility-impaired individuals to navigate their homes safely and independently by overcoming the obstacle of stairs.
Although there's an abundance of stair lifts and features to choose from, choosing the best stair lift for your home can be daunting. We're here to streamline the process and make your stair lift installation a breeze. But before we get started, you should understand a few things about your home and current mobility situation. Let's jump right in.
Understanding Your Needs
There's no doubt about it: people are living longer lives—and they're choosing to age in place, too. A stair lift can significantly enhance the quality of life for individuals with mobility issues, allowing them to move freely and independently within their homes.
Before you decide on a stair lift, you should have a clear understanding of your needs. This includes your mobility level, the type of staircase you have, and your weight. All of this will impact the type of stair lift you decide on. Contact a specialist at DME Elevators & Lifts to discuss your unique requirements. They'll guide you through the stair lift buying process to help you find the perfect fit.
Different Types of Home Stair Lifts
No two stair lifts are the same, and navigating the world of stair lifts can be confusing. There are several types of stair lifts on the market, and each one caters to different needs and requirements. Below are the three types of stair lifts offered at DME Elevators & Lifts.
These are by far the most common type of home stair lift on the market. Straight stair lifts are designed for staircases without any curves or landings, are usually easy to install, and are much more budget-friendly than other options. Straight stair lifts are a popular choice for homes with standard straight staircases and are the only choice for those interested in renting a stair lift.
Curved staircases are beautiful and make a statement. For staircases with curves, bends, or intermediate landings, curved stair lifts are the ideal choice. These stair lifts are custom-built to fit the unique shape of your stairs. However, the installation process for curved stair lifts may take longer due to customization requirements and will often cost more than straight or outdoor lifts.
Take your freedom to the great outdoors with an outdoor stair lift. If you have an outdoor staircase leading to your home or garden, outdoor stair lifts are weatherproof and designed to withstand harsh Midwest weather. These models are built with durable materials to ensure they can handle exposure to various weather conditions including rain, wind, and snow.
Considering the Cost of Home Stair Lifts
Now that you know the difference between the three most common types of stair lifts, you're probably wondering how much a stair lift costs. Straight stair lifts are generally more affordable than curved ones due to the custom nature of curved stair lifts. Typically, the cost of a straight stair lift and its installation ranges from $3,400-$5,500. You can expect to pay $8,500-$15,000 for a curved stair lift with installation, as all curved lifts are custom-made.
That being said, the cost is ultimately determined on a case-by-case basis. Reach out to DME Elevators & Lifts to schedule a free in-home consultation. You'll receive an estimate based on your staircase, mobility needs, and budget. Call us at (866) 698-3216, or fill out our form online.
Why Choose DME Elevators & Lifts
When it comes to stair lifts, reliability, and safety are paramount. Since 1977, DME Elevators & Lifts has elevated lives throughout the Midwest. We install some of the most recognizable and reputable brands in the industry, like Stannah Lifts—a leading manufacturer of high-quality stair lifts.
Get in touch with an accessibility advisor to discuss your situation and explore your options. Take the first step toward freedom in your own home by contacting DME Elevators & Lifts. We can install a safe, dependable, and comfortable lift that will keep you going for years to come.
Home Stair Lift Installation & Maintenance
Once you've selected the right stair lift for your needs, it's time for installation. A professional technician will visit your home to assess your staircase, take accurate measurements, and install the stair lift safely and securely. During the installation process, our technician will make sure that the lift is positioned correctly and functions smoothly for a comfortable ride.
To ensure the longevity and optimal performance of your stair lift, routine maintenance is essential. Most manufacturers recommend scheduling regular maintenance checks by certified technicians. Routine maintenance will help identify and address any potential issues before they escalate, ensuring your stair lift remains safe and reliable for years to come.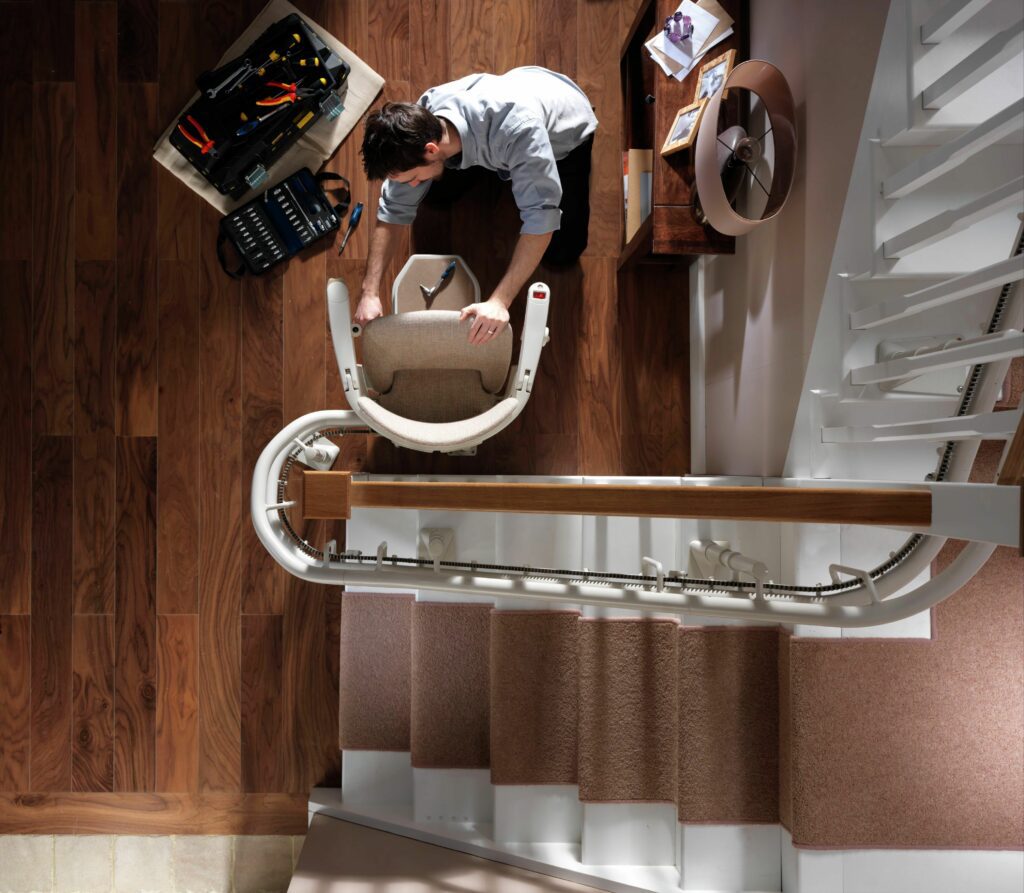 What About Home Stair Lift Rentals?
While purchasing a stair lift is a smart long-term investment, there are some situations where a rental option might be more suitable, especially for those with temporary mobility challenges or short-term needs. A good example would be someone who just underwent surgery or has suffered an injury.
Stair lift rentals offer a flexible solution that allows individuals to enjoy the benefits of a stair lift without committing to a permanent purchase. Keep in mind that stair lift rentals are only viable for homes with straight staircases. That's because curved stair lifts are custom-made and not mass produced. If you're interested in renting a straight stair lift from DME Elevators & Lifts, don't hesitate to reach out to a mobility specialist.
Visit a DME Location Near You
Want to see a stair lift in person and in action? DME Elevators & Lifts operates three full-service facilities throughout Indiana, Illinois, and Wisconsin. Visit a location near you to see how DME Elevators & Lifts can help you regain your independence.
DME Elevators & Lifts of Illinois
1973 Ohio Street
Lisle, IL 60532

Phone: 630-948-0193
DME Elevators & Lifts of Wisconsin
9675 S. 54th Street, Suite 4
Franklin, WI 53132

Phone: 262-444-0970
DME Elevators & Lifts of Indiana
3880 Pendleton Way, Suite 700
Indianapolis, IN 46226

Phone: 317-597-6806
For the Best Home Stair Lifts: Contact DME Elevators & Lifts
Understanding your needs, exploring available options, considering your budget, and deciding on a reputable stair lift dealer are all vital steps in making the right choice for your stair lift. Once installed, regular maintenance will ensure that your stair lift serves you well for years to come. If you're looking for a reliable and efficient stair lift solution, contact DME Elevators & Lifts. Our unmatched expertise can take you to new heights you never imagined possible.
Whether you've chosen to age in place or have suffered an injury that temporarily affects your mobility, we're here to help. Take the first step towards greater mobility and independence with a stair lift tailored to your unique needs. Making an informed decision will not only enhance your safety and well-being but also add value to your home and enrich your daily life. It's time to enjoy your home the way you've always enjoyed it.