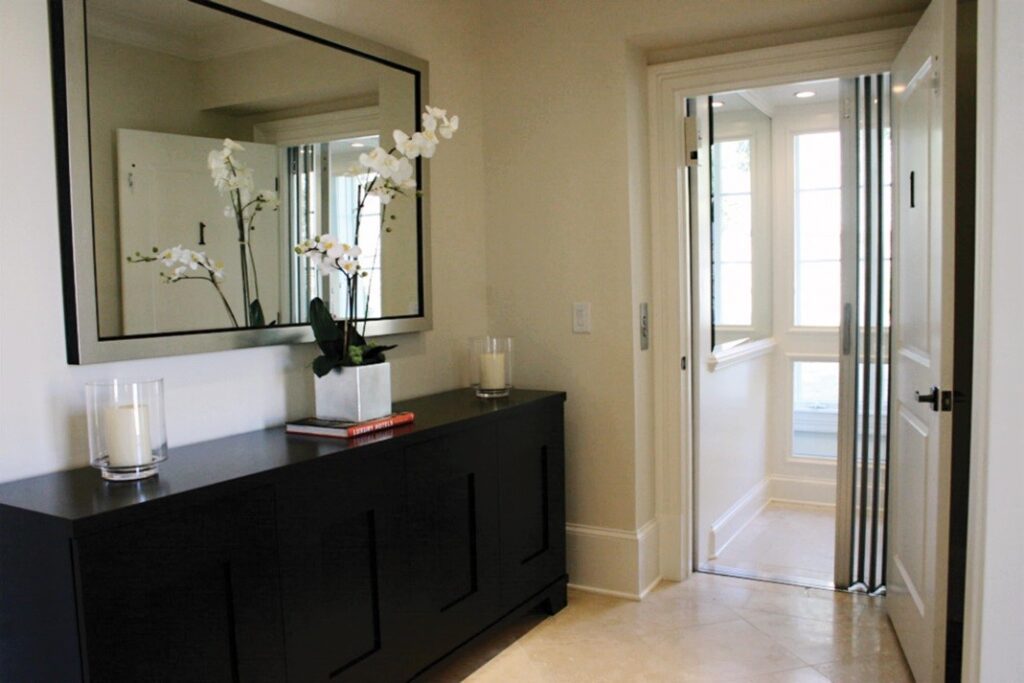 Elevators aren't just for luxury houses and commercial buildings. Elevators are indispensable equipment that can help those with limited mobility get the most out of their home. These days, more and more homeowners are discovering the incredible benefits of installing a home elevator. It not only adds interest to your living space but offers many practical advantages.
Since 1977, DME Elevators & Lifts has made residents of Illinois, Indiana, and Wisconsin mobile again. Losing your independence can feel more than frustrating and demoralizing. We're here to help you feel like your old self again. Enjoy your home the way you've always enjoyed it with the help of a home elevator.
The Benefits of Installing a Home Elevator
Age is inevitable, but aging out of your living space isn't. Whether you're in your golden years or need an extra lift around the house, home elevators have made a proven impact on the lives of those with mobility issues.
Below are five advantages associated with a home elevator installation provided by DME Elevators & Lifts:
1. Increased Mobility & Accessibility
For individuals with limited mobility, navigating stairs can be a challenging—and sometimes impossible—task. A home elevator provides a solution to this problem by offering a safe and convenient way to move between floors.
Whether you're a senior looking to age in place or someone with a disability, a home elevator can provide the independence and freedom you need to access every area of your home without limitations. A home elevator allows you to maintain a higher quality of life by breaking barriers and enhancing your mobility.
2. Enhanced Home Value
Did you know that installing a home elevator can increase the value of your property? It's true. Beyond the practical advantages it provides, a home elevator is also an investment in your home's value.
Potential buyers are increasingly seeking properties that are accessible and can accommodate their changing needs. By installing a home elevator, you not only make your living space more inclusive but also add a valuable feature that can significantly boost your home's market value.
3. Convenience and Comfort
While home elevators can cater to individuals with mobility issues, they also bring convenience and comfort to everyone in a household. Moving heavy items or multiple bags of groceries between floors becomes a breeze with a home elevator. Everyone in a multi-generational household will benefit by having a home elevator.
Say goodbye to the struggle of carrying bulky laundry baskets up and down the stairs or the challenge of lugging furniture during a home renovation. A home elevator streamlines your daily tasks, making life easier and more enjoyable for the whole family.
4. Safety
Stairs can pose a significant safety risk, especially for those with limited mobility or balance issues. Accidental falls on the stairs can lead to severe injuries that require long recovery periods.
By installing a home elevator from DME, you eliminate the need to climb stairs, reducing the risk of accidents. This added security brings peace of mind to both individuals with mobility issues and their loved ones by ensuring a safer living environment for everyone involved.
5. Future-Proofing Your Home
Planning for the future is essential when it comes to your living space. Home elevators offer a proactive approach to future-proofing your home, ensuring it remains accessible and adaptable for years to come.
As you age or your needs change, installing a home elevator helps save you from the hassle and cost of potential major renovations down the line. It also allows you to comfortably age in place without the need for extra help. That way you can maintain your independence and preserve the familiarity of your beloved home.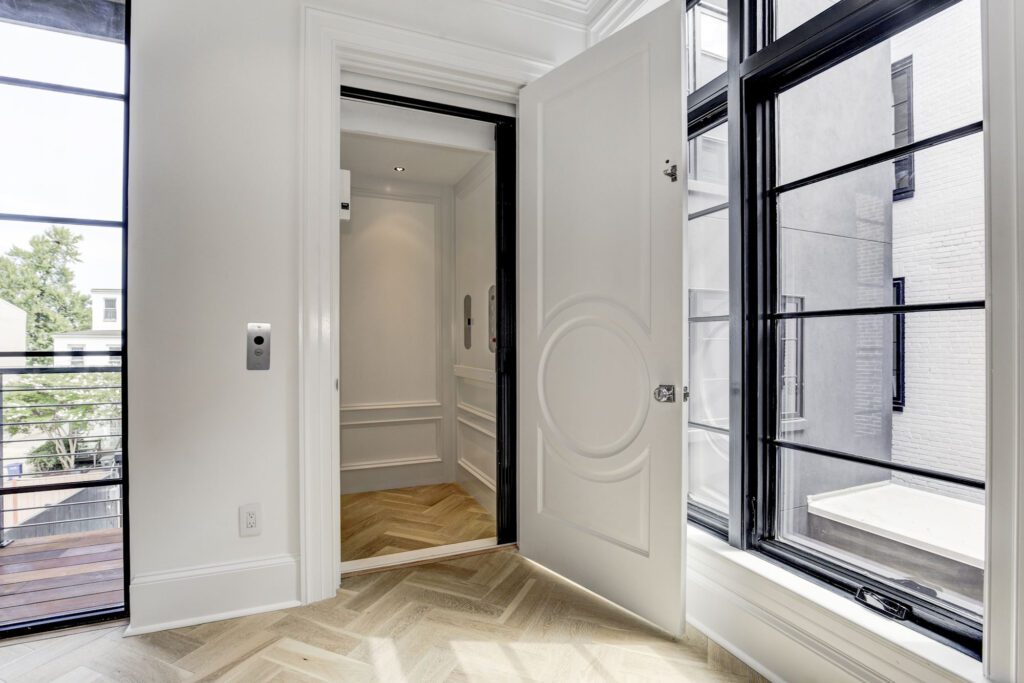 Key Considerations When Installing a Home Elevator
Deciding to install an elevator in your house is no easy consideration. From pricing to design styles, there's a lot to factor into a new home elevator installation. We suggest working with an experienced elevator advisor that can help walk you through the process step-by-step.
If you're considering installing a home elevator for yourself or a loved one, you should take several components into account. These include available space, cost considerations, elevator design options, and ongoing maintenance requirements. Let's take a look at several considerations you should take note of when choosing home elevator installation from DME Elevators & Lifts.
Space
Home elevators come in various sizes and configurations, so it's essential to determine where the elevator can be installed without disrupting the general flow of your living space. Consider the location, size, and layout of the elevator shaft along with any structural modifications that may be required.
Consulting with elevator professionals can help you evaluate your options and determine the best placement for your home elevator.
Cost
Wondering how much a home elevator costs? The cost of installing a home elevator can vary depending on several factors, including the type of elevator, the size, the features, and the complexity of the installation. It's important to set a budget and consider your long-term financial goals.
While a home elevator is a valuable investment, it's crucial to strike a balance between your needs and your budget. A sales advisor from DME Elevators & Lifts can guide you through the pricing of different elevator options, ensuring that you choose the right elevator for your budget.
Key Elements
Certain features play a crucial role in the functionality of your elevator, including the drive, elevator cab, and doors and gates. The choice of drive systems will also impact the amount of space required for the elevator installation, making it an essential consideration.
It's important to note that not all elevators are created equal, which is why speaking with an advisor is highly recommended. The DME Elevators & Lift specialists can guide you through the entire process of purchasing and installing a home elevator based on your specific needs and the requirements of your home.
Design
Home elevators are available in various designs, styles, and finishes. When you consult DME, we consider the aesthetics of your home and suggest an elevator that complements your existing interior design.
From traditional to modern, there are options to suit your needs. You can customize the cab finishes, flooring, lighting, and even the power gate operator to create a cohesive look that seamlessly integrates with your home's overall decor. Take the time to explore different design possibilities and envision how the elevator will blend with your existing surroundings.
Maintenance
Like any mechanical system, home elevators require regular maintenance to ensure optimal performance and longevity. It's important to consider the maintenance requirements and associated costs when selecting an elevator.
Look for reputable elevator companies that offer reliable maintenance services and have a track record of excellent customer support. Regular maintenance visits will help prevent potential issues, keep your elevator operating smoothly, and ensure the safety of its users. Factor in ongoing maintenance as part of your home elevator's overall cost and long-term ownership.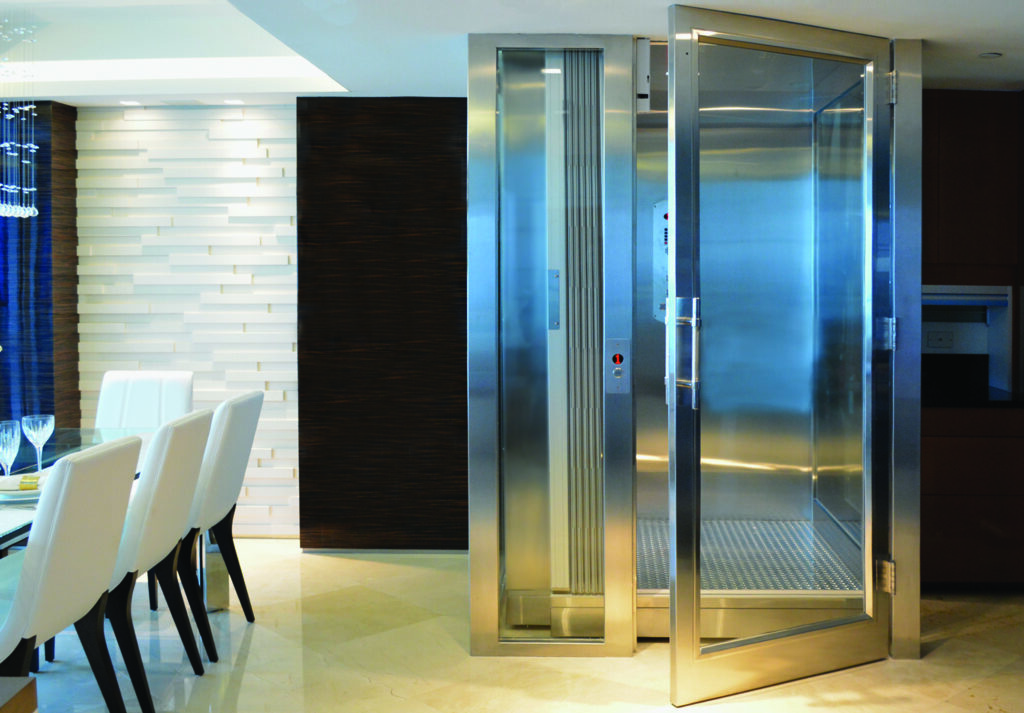 The Bottom Line
Choosing the right elevator is a personal process—and DME Elevators & Lifts can help you every step along the way. If you're unsure about what kind of home elevator you or a loved one will benefit from, give us a call. We're available to discuss your mobility needs and home requirements all while staying within your budget. Reach out for your free in-home assessment to get a pair of professional eyes on your property.
Read More: Our Home Elevator Buying Guide
Why Choose DME Elevators & Lifts?
DME Elevators & Lifts has been taking those with limited mobility to new heights for over 45 years. Through the decades, we've garnered a reputation for premier service across Illinois, Indiana, and Wisconsin.
You can take comfort in knowing that there is no obligation when you reach out to a team member at DME Elevators & Lifts. Get moving again, and experience what excellence in elevation feels like. Contact us today for your free in-home assessment. All we need is a little background information.
Contact DME Elevators & Lifts for an In-Home Assessment
We've been helping people regain their independence since 1977. Technology has changed over the years, but our mission has always remained the same: to make life more accessible. We understand that choosing to install an elevator in your home is a big decision and that you have options.
A well-chosen home elevator can provide you with convenience, accessibility, and peace of mind for years to come. That's why investing time and effort into thoughtful consideration will guarantee a successful installation and a truly beneficial addition to your home.
Get in touch with a specialist from DME Elevators & Lifts to see where a home elevator will take you. Schedule your free consultation online or visit one of our showrooms.