When mobility issues limit the ability to safely travel around your home, a stair lift is a great accessibility solution. Stair lifts differ in size, style, and design. Choosing the right options will ensure your new stair lift best fits your needs and ultimately help you live a more independent lifestyle. We've put together this stair lift buying guide to help inform you on your stair lift buying journey.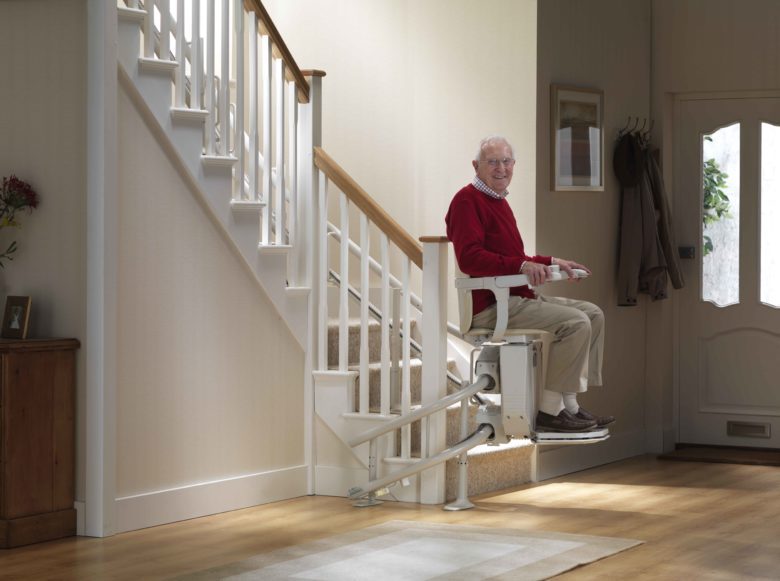 Why choose a stair lift?
Adding a stair lift to a home is a practical solution to making life safer and more accessible. Stair lifts come in a variety of models and customizations to best match your mobility needs, your budget, and your home. Stairs can pose a large safety risk to anyone with mobility concerns. Equipping a home with a stair lift can be the deciding factor between staying in the home you love or needing to move into a more accessible residence. Use this stair lift buying guide to help aid in your decision.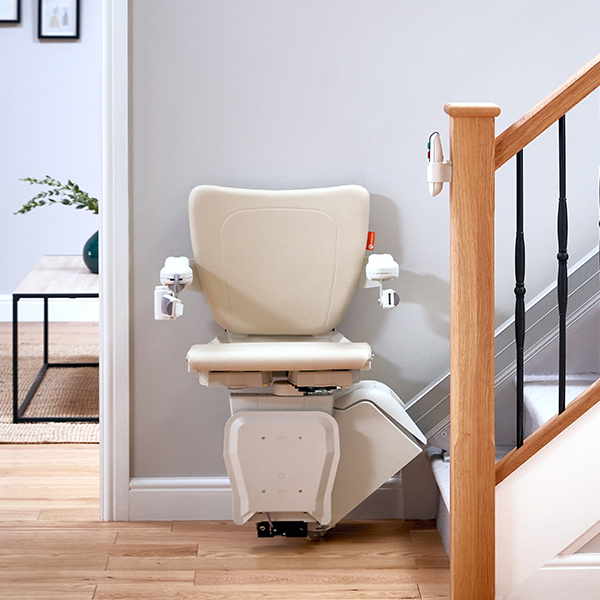 How to Choose the Right Stair Lift
There are many factors to consider when designing an appropriate stair lift. From its functional requirements to unique design options, a stair lift can be customized to meet your wants and needs. The main options to consider when designing the right stair lift for your home are:
1. New, used, or rental: Stair lifts can be bought new, used, or as a rental. Buying a new stair lift provides the ability to fully customize the lift. Purchasing a used stair lift is a great way to address your mobility needs with a more budget-friendly option. Lastly, renting a stair lift can be ideal for those who prefer a flexible rental length term and monthly payments. Some dealers also provide an option to purchase the rental lift if desired.
2. Straight versus curved: Depending on the configuration of your stairs, different stair lift models are offered to fit your home. Straight stairways of almost any length can accommodate a stair lift. Stair lifts can be placed on either the right or left side of stairs depending on the layout of the staircase. Curved stair lifts can be made to fit almost any unique stairway.
3. Warranty options: Stair lift warranties are a large factor to consider when adding a stair lift to a home. Warranties can cover costs such as parts, labor, and recommended maintenance. Evaluate the warranty that comes with the stair lift and consider adding extensions to the warranty if desired.
4. Design options: Stair lifts can be customized to best fit your personal style. With different color and material options, a stair lift can be made to complement your home or blend right into its surroundings.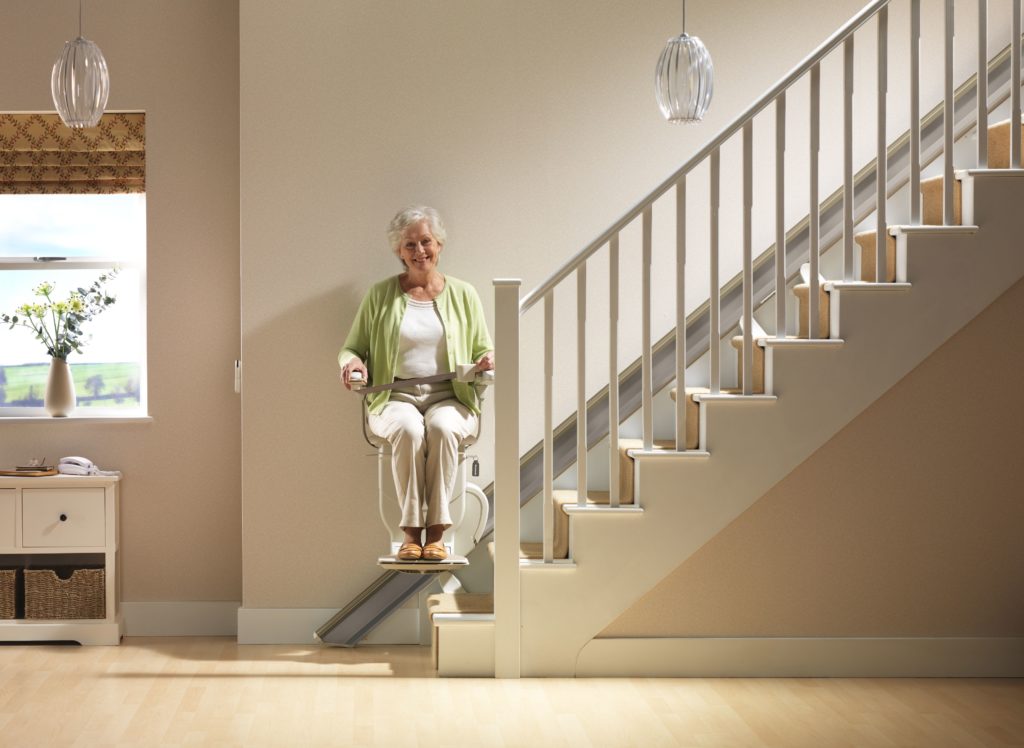 How to choose the right stair lift dealer?
Need a stair lift but don't know where to go? The first step is finding a local stair lift dealer that will be able to assist you in designing the right stair lift for your home and needs. Choosing the dealer is an important aspect of the stair lift buying process. Our stair lift buying guide includes the key aspects you should look for in a stair lift dealer.
Key aspects to look for in a stair lift dealer:
1. Is the dealer licensed and reputable? Find someone you can trust. Installing and servicing stair lifts should be done by licensed technicians from a reputable dealer. Selecting a dealer that is well-known and has a history in the business will give you peace of mind that your stair lift will be properly installed and maintained. Also ask where the dealer is located, to make sure they service your area.
2. What stair lift manufacturer does your dealer partner with? Ensure the stair lift you are considering is made by a reputable company by investigating the stair lift manufacturer. Look for the manufacturer online, visit their website, and read customer reviews. Often times the manufacturer's websites can direct you to a local dealer.
3. Does the dealer provide service? Stair lifts are mechanical items and scheduling regular maintenance visits is very important. Choosing a dealer that provides service with professionally trained technicians to maintain your unit will keep it running well.
4. Does the dealer have a showroom? Choosing a dealer with a showroom offers the opportunity to see and ride different types of stair lifts. Visiting a showroom is a wonderful opportunity to learn more about stair lifts in person as well as choose the functional and design elements of your stair lift.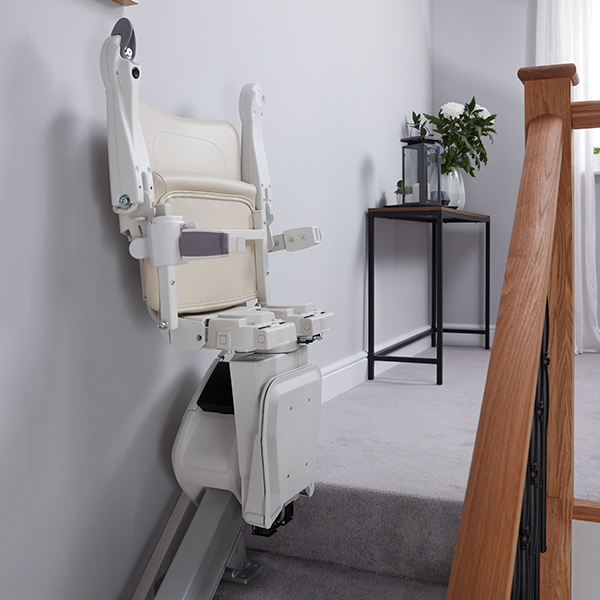 Frequently asked questions
Q. What does the stair lift buying process look like?
A. The buying process of a stair lift can be broken down into three steps. The first step is an assessment of your specific needs as well as a review of the layout of your home. The next step is designing the lift by choosing options that range from the technical components to the style of the lift. The last step is the installation of the stair lift into your home by technicians. Straight stair lifts are typically installed in 1 day, whereas customized lifts may take 2 days depending on the complexity of the staircase.
Q. How much do stair lifts cost?
A. Stair lifts vary greatly in price depending on the design of the lift. Curved stair lifts, due to their custom design, are usually more expensive than straight stair lifts.
Q. How do I identify and avoid stair lift scams?
A. Unfortunately, stair lifts scams on the internet are prevalent and can target potentially vulnerable people. Avoid online deals with seemingly great bargains that many times are truly too good to be true, or purchasing from someone that does not provide on-going service to their equipment after installation. We also recommend not installing a stair lift yourself, but instead, relying on factory-trained technicians. Buying your stair lift from a reputable stair lift dealer will ensure the quality installation and long-term reliable service of your lift. It's important to feel safe and free from worry throughout the life of the product.
Q. What safety features do stair lifts have?
A. Stair lifts contain many safety features to ensure the safety of the rider and others in the home. Stair lifts include a battery backup to ensure continuous travel even in the event of a power outage. They also include seatbelts, safety sensors for obstruction detection, levers, and locks to guarantee the stair lift is safe for the user as well as around any children or pets.