If you're on a budget but need to navigate your home safely, then a used stair lift is a great option. Used stair lifts can help you save a lot of money while still receiving high-quality equipment. Just like any other purchase, buying a stairlift is a big decision. Rely on the experts to find the right fit for you and your home. DME Elevators & Lifts has a wide variety of used stair lifts for sale to fit your needs.
Let's address your concerns about purchasing a used stairlift and how it can transform the way you move—without breaking your budget.
How Much Does A Used Stair Lift Cost?
One of the biggest benefits of purchasing a used stairlift is the price. New stairlifts can cost anywhere between $3,400 to $5,500. The cost of a used stair lift can vary, but typically you can expect to save $500 or more compared to a new model. Used stairlifts from reputable dealers like DME Elevators & Lifts can range in price, but they often come with warranties and quality assurance. Contact us for a specific quote tailored to your needs.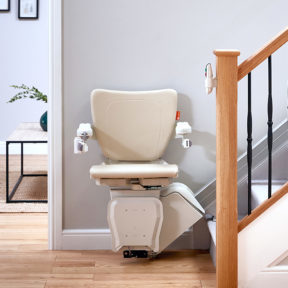 The Risks of Privately Purchasing Used Stair Lifts
Purchasing a used stairlift is a beautiful way to give you or your loved one freedom without a huge price tag. But as with purchasing anything second-hand, there are certain factors to consider.
Here are several questions to ask before purchasing from a pre-owned stairlift:
Who Will Install It?
There's a greater margin for error if you're buying your used stairlift privately. It is important to ask who will install the lift. Will they repair and maintain the lift for years to come? We've seen people who have saved money upfront by buying online or from a friend, but it resulted in a much higher service and failure rate. This causes them to ultimately pay more in the long run when factory-trained technicians are not involved in the measuring, set up, and installation. Expert installation from a company like DME Elevators & Lifts can save you money when you consider what you will pay over the life of the stair lift.
Is It Safe?
A privately owned used stairlift can come with an array of problems ranging from broken parts to incorrect installation. Having a reliable stairlift is essential to those who depend on this equipment to help them move safely throughout their home. Be sure to understand the condition of the stair lift you are purchasing and whether it is a current model or discontinued. You do not want to be stuck unable to find parts should your lift need repairs. Instead of risking a myriad of problems, it's in your best interest to purchase a reconditioned stairlift from DME Elevators & Lifts.
Do I Need to Budget for Maintenance or Repairs?
When you purchase a stairlift from a private party, you won't have a warranty attached to it. Purchasing a pre-owned stairlift from a reputable dealer like DME Elevators & Lifts takes the worry out of potential repair costs. Be cautious of warranties that are 90 days or less. It is recommended that you have at least a 1-year warranty. The companies that offer long labor and parts warranties truly stand behind their employees and equipment and you can feel confident that your lift will be there when you need it most.
What is the Condition of the Stairlift?
The condition of a privately owned stairlift can vary. You don't know what you're purchasing, especially if you are buying online. On the other hand, refurbished stairlifts, like those offered by DME Elevators & Lifts, go through ample testing to ensure a perfectly working stairlift for your home. Some used stairlifts from DME Elevators & Lifts are only months old as customers may only need a stairlift for short-term use after surgery.
Will it Fit My Home?
A privately owned stairlift might not properly fit your stairs the way it should, which can cause safety concerns. At DME Elevators & Lifts, our team takes great care in finding the right pre-owned lift to fit your staircase for easy access and mobility. We will also consider what safety features best fit your needs. Will you need a retractable rail to ensure there is no tripping hazard present after the lift is installed? Would a curved or straight stair lift best fit your staircase? Could a power swivel or power footrest make using the chair easier and safer? These are important factors to consider when buying a new or used stairlift.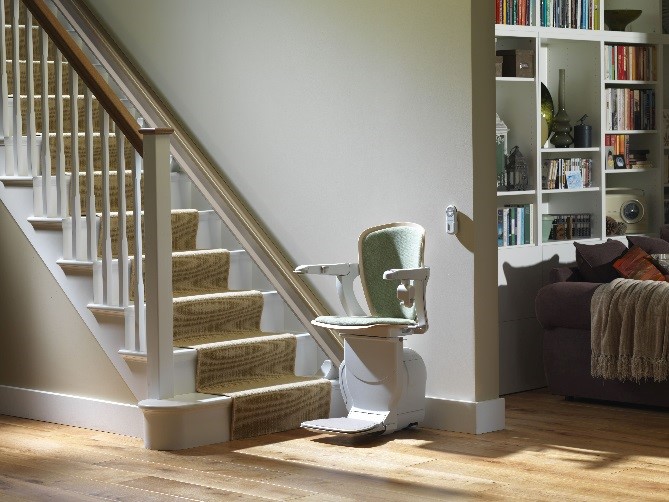 Refurbished Used Stairlifts Can Be Like New
A refurbished stairlift is a great way to save money while still getting the benefits and safety of a new stairlift. Just by looking at the lifts you typically cannot visually see a difference between a new or a pre-owned model. Also when shopping pre-owned inventory, you can often find stair lifts that have higher-end features and upgrades at the same cost as a new base model lift. There are many benefits to purchasing a used stairlift. One of the most important is that you get a warranty on your purchase. This means that if there are any problems with your used stairlift, you have someone to call when you need help and you can avoid costly repairs.
Used Stair Lift Installation Services from DME Elevators & Lifts
Take the worry out of mobility and regain your independence when you choose a used stairlift from DME Elevators & Lifts. Either you or your loved one may need to consider adding a stairlift to your home. It is a safe way to age in place, rather than take on the costly and overwhelming task of moving. Rest assured a used stairlift with an attached warranty is a budget-friendly option that can give you the same peace of mind as buying a new one. Read more about stairlift pricing or contact our team for additional information. We are
dedicated to transforming your life so you can live without limits again. Contact us to learn more about how a used stairlift can change the way you live.
Quick Contact Form
"*" indicates required fields